Friends of the Charles Dickens Museum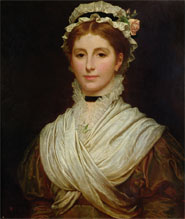 Kate Perugini (nee Dickens), painted by her husband Carlo Perugini, on display at the Charles Dickens Museum in London.
Charles Dickens is famous for his association with London, yet the only one of his London homes to survive is 48 Doughty Street. He lived here from 1837-39 and it was here that he wrote some of his best-loved works, including Oliver Twist and Nicholas Nickleby. He and his wife Catherine lived here with the eldest three of their ten children: Charley, Mamie and Katey (the two daughters were born in the house).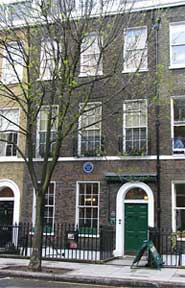 48 Doughty Street, London, former home of Charles Dickens and now The Charles Dickens Museum
The house was turned into a museum in 1925 and today it welcomes visitors from all over the world. The Dickens family has always been involved with the museum and Lucinda felt honoured to be asked to be a Patron of the Friends of the Museum, alongside her cousins Cedric (Ceddy) Dickens (1916-2006) and Commander Mark Dickens. The Friends of the Charles Dickens Museum is a vital way of keeping the museum alive and a great way of meeting fellow Dickensians as there are social events throughout the year. There's also a North American section of the Friends of the Charles Dickens Museum, please contact the museum (details below) for more information.
The museum holds regular events, such as handling sessions where visitors get the chance to hold objects that belonged to Dickens workshops, plays, readings and guided walks around the local area. The museum is a really special place to visit all year round, but especially during the Christmas period, so if you're in London this Christmas make sure you visit the museum and experience a truly Dickensian celebration.
There are a number of ways you can get involved with the museum, either as a visitor, a volunteer or a Friend. To find out more, visit the Charles Dickens Museum website, email info@dickensmuseum.com or call +44 (0)20 7405 2127.