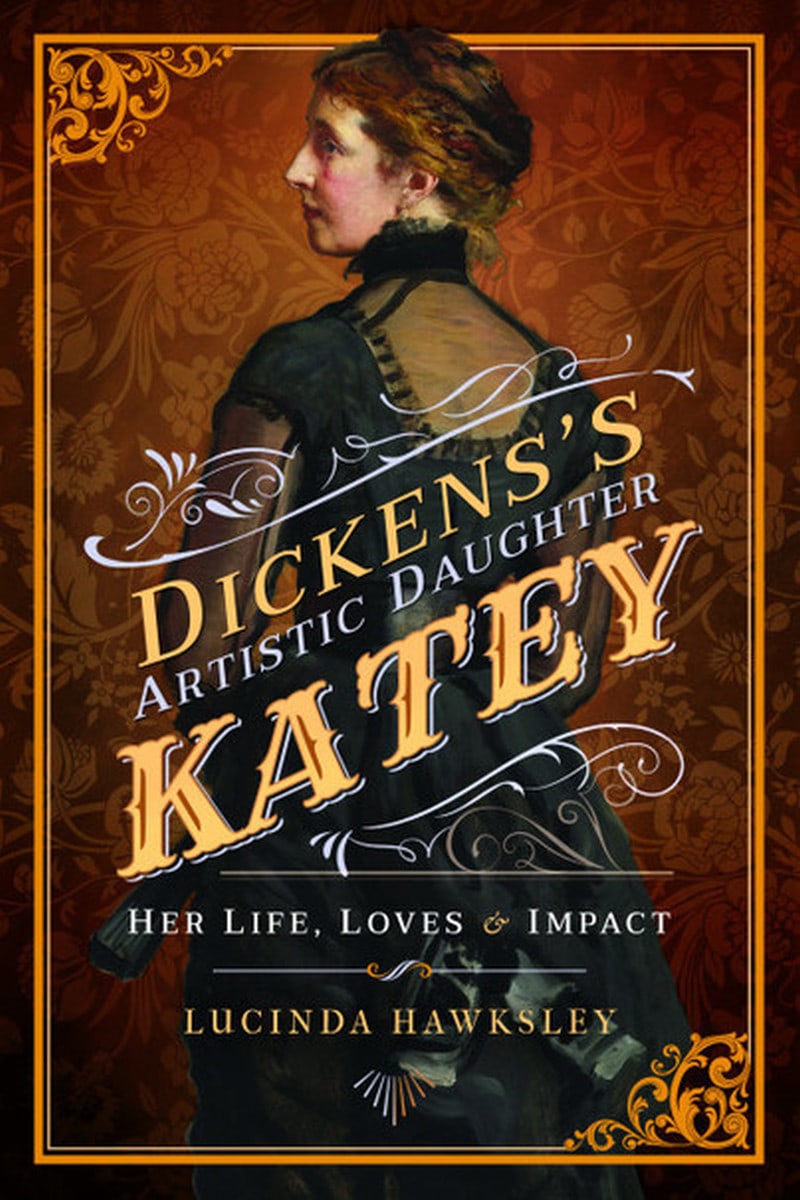 Katey Dickens was the equivalent of a nineteenth-century Girl: the daughter of the most famous man in Britain, a beautiful artists' model, a celebrated artist and friends with London's artistic and literary elite.
Charles and Catherine Dickens had ten children (of whom, one died when still a baby). During their privileged upbringing, Katey and her siblings were taken on regular trips abroad, to France, Switzerland and Italy, and acted in elaborate family theatricals' in 1857 they performed on a public stage for Queen Victoria. Katey's talent for drawing was noticed early and, at the age of twelve, she was enrolled in art classes at Bedford College, the first college in Britain to provide university education for women.
Katey was often described by her siblings as their father's favourite child. She was the most like him in temperament and they had a close though sometimes fiery relationship. Her father gave her the nickname Lucifer Box because she would flare up with anger like a tinder box. When her parents separated, Katey married to escape the troubled atmosphere. Her husband was the Pre-Raphaelite artist Charles Allston Collins (younger brother of the novelist Wilkie Collins). They had a strong friendship, but a sexless marriage and Katey began a passionate affair with another Pre-Raphaelite, Valentine Prinsep. After being widowed in her thirties, Katey married the Italian artist, Carlo Perugini, whom she had met, and fallen in love with, at Lord Leighton's house (now one of London's most beautiful museums).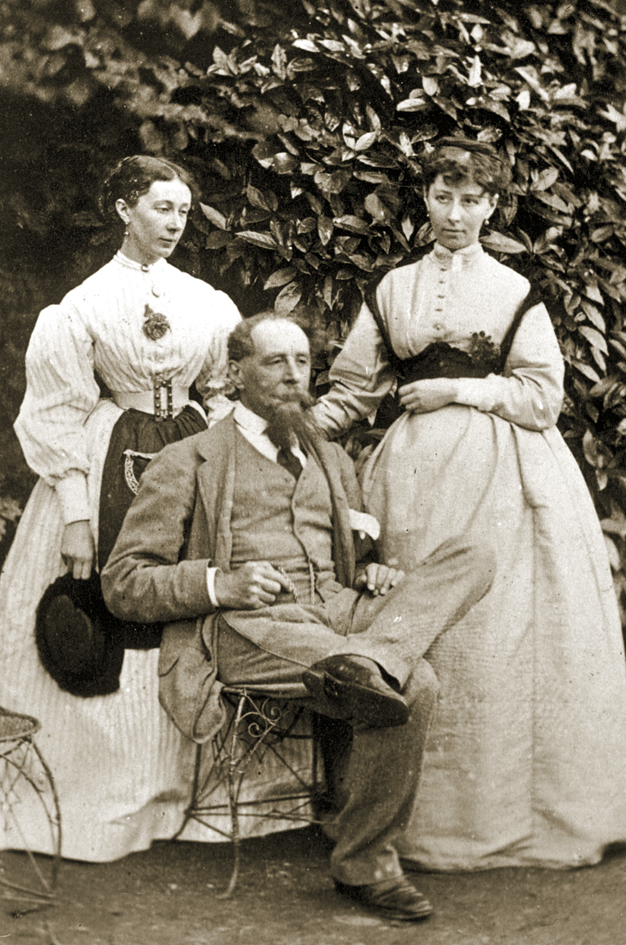 Charles Dickens with his two daughters, Mamie and Katey (right) in c.1865
Photograph taken in the garden at Gad's Hill Place in Kent.
Portrait of Mrs Perugini by John Everett Millais
Painted as a wedding present when Katey married her second husband, Carlo Perugini, in 1874.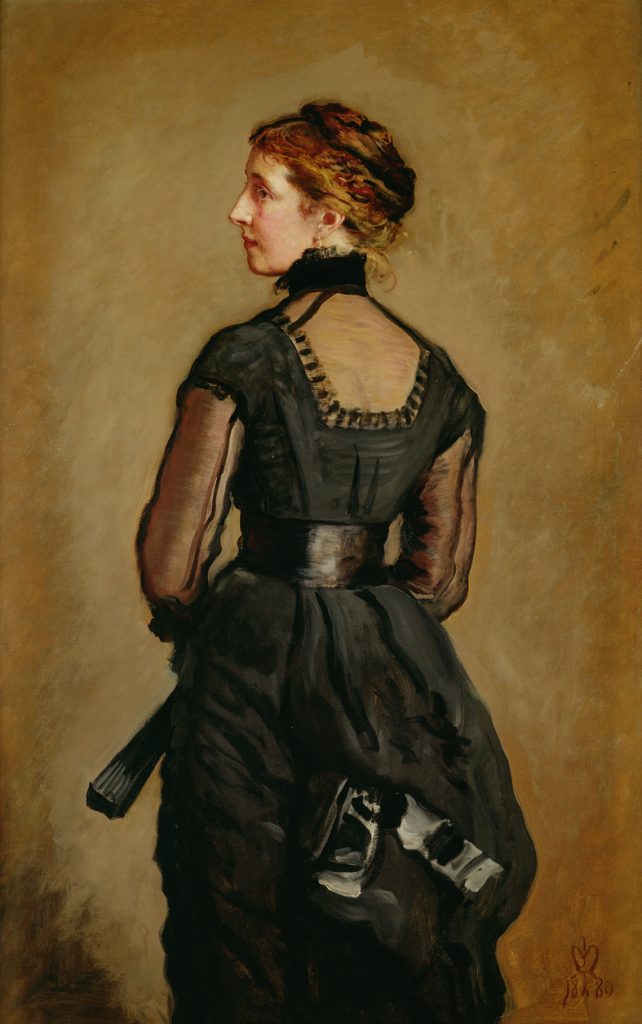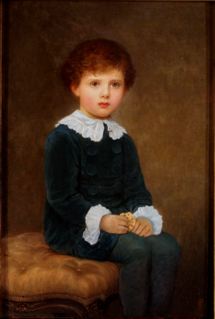 Katey became renowned as a portrait painter and exhibited regularly at the Royal Academy, the Society of Watercolour Painters and the Society of Lady Artists. She lived for almost 90 years, actively pursuing her career, championing her father's works and battling with regular bouts of depression. Her wide circle of friends included some of the greatest names of her time: John Everett Millais (who painted her for his famous The Black Brunswicker); William Thackeray and his novelist daughter, Anny Thackeray Ritchie; T.P. OConnor; Frederic, Lord Leighton; J.M. Barrie and George Bernard Shaw.
Writing Katey's biography was a truly fascinating journey, as I wasn't only researching history but looking into my own family's past. By the end of several years of research and exciting discoveries, I felt I had truly brought Katey back to life. After the first edition of my biography came out, I was contacted by several people who told me they had read my book and now knew for the first time who had painted a portrait they owned, I was also contacted by people who had other items relating to Katey. Their generous sharing of information allowed me to update the book and this new version, published in 2018, has been a joy to work on. One of the most difficult aspect of researching Katey was trying to find out what happened to the many works she produced, so if you have an old family portrait signed with the monogram K.P. (or occasionally with her full name), please do get in touch!
Dickens's Artistic Daughter Katey published by Pen and Sword, you can buy it from your local bookshop or online:
Here's what people have said about it:
…this biography was well worth writing and is well worth reading. Katey has never had a book to herself, and she deserves one. The personality that comes through is ardent and likeable…. [Hawksley's] biography has the distinction of making you want to know more about its subject, rather than, as so often, less.

John Carey in The Sunday Times
… highly regarded artist with something of a flirty reputation … the feisty Katey as Lucinda Hawksley makes clear in her gripping biography could not have been less like the drippy and insipid love-object Victorian heroines of Dickens's novels…. In old age, Katey entertained a stream of celebrities at her small London flat, including J.M. Barrie and George Bernard Shaw…. A photograph taken of her in her 80s shows her still lovely, with a gentle expression and her father's intelligent eyes. It is intriguing to imagine what she might have made of Hawksley's version of her life … Katey's [story] is fascinating and enthralling.

Val Hennessy in the Daily Mail
Her father was one of our greatest authors but, tainted by the break-up of her parents' marriage, Charles Dickens's daughter Katey scandalised society. Yet, as a new book reveals, it didn't stop her finding happiness … [this is] the first account ever written of Katey's extraordinary but forgotten life…. Why has she been so forgotten?… Cold-shouldered by the high society people of her day … Katey Dickens nevertheless managed to live a rich and fulfilled life.

Cheryl Stonehouse, 'The Victorian Wild Child' in the Daily Express
It is a great and substantial piece of work that never flags and is interesting on so many planes: the picture of Dickens from the viewpoint of the children and the various sibling interactions and rivalries, the friendship with various families particularly the Collinses and Thackerays, the later financial struggles of most of the children – giving the book a very contemporary flavour! – and Katey's later life in the 20th century. A really good read – and a very nicely designed book into the bargain.

George Gorniak, editor of The Dickens Magazine
Lucinda Hawksley's biography … is a densely researched, clearly written tribute to her relative, which also casts fresh light on Charles Dickens and the beau monde of the day.

Beverly Byrne in The Lady magazine
Lucinda Hawksley has delved deep into her family history to research Katey: The Life and Loves of Dickens's Artist Daughter … her book about Kate Perugini will give readers a rare insight into the turbulent family and the life of one of England's greatest literary figures.

Freddie Cunningham in Western Gazette
I really enjoyed this book, once I started reading, I couldn't put it down. It gives an interesting insight to life within a high-profile family in Victorian times. The fact it is written by a family member adds interest and depth. A really good read that also educates. Highly recommended.

an amazon.co.uk review