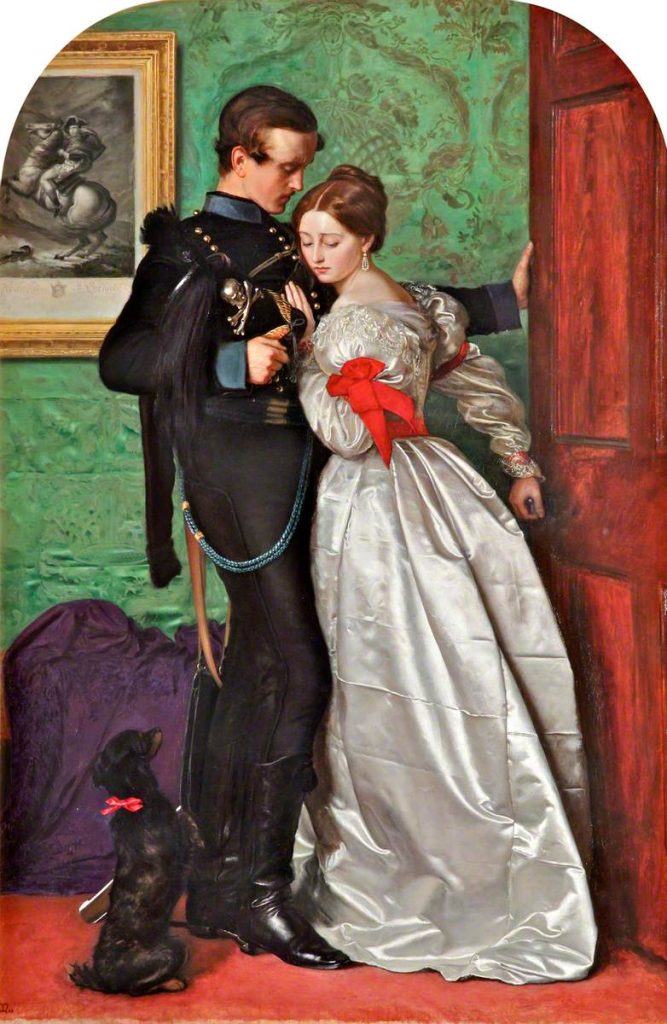 In 1860, ten years after Charles Dickens published a scathing review of Pre-Raphaelitism in his magazine Household Words, John Everett Millais exhibited what would become one of his most famous paintings. The Black Brunswicker depicts a young Englishwoman making a futile attempt to prevent her Prussian fiancé from fighting in the Battle at Waterloo.
For many of the spectators who flocked to see Millais' latest masterpiece, a major attraction was the chance to see the model. The young woman in the striking silk dress, was modelled by Katey Dickens, younger daughter of the novelist. Although not all critics were kind – one commented Katey seemed more interested in her dog than her doomed lover – others fell in love with Millais' model. When the painting travelled (together with William Holman Hunt's The Light of the World) to Leeds, the reviewer for The Leeds Mercury commented: 'The girl's face is … a face of great beauty.' (1st December 1860)
Millais wrote to his wife, Effie, that it was 'the most satisfactory work' he had exhibited so far. As well as the famous version now at the Lady Lever Art Gallery, there are several studies for the painting in the Tate, and this version, now at the Royal Scottish Academy of Art & Architecture, was completed by Millais' brother William. […]
First published on 8th June 2016. Read full article on Art UK.