In 2019, before the pandemic hit, I was lucky enough to return to Melbourne, Australia, one of my favourite cities. The following article appeared in Oberoi magazine (unfortunately, with half of the final sentence cut off by the printers!)
Melbourne has a long history of loving art. The first art gallery in Australia was opened here, in 1861, and the city has always had a reputation for being "arty". Today, alongside all the official galleries, tourists and locals are eager to witness an ever-evolving art – the art of the streets. It changes, sometimes, daily.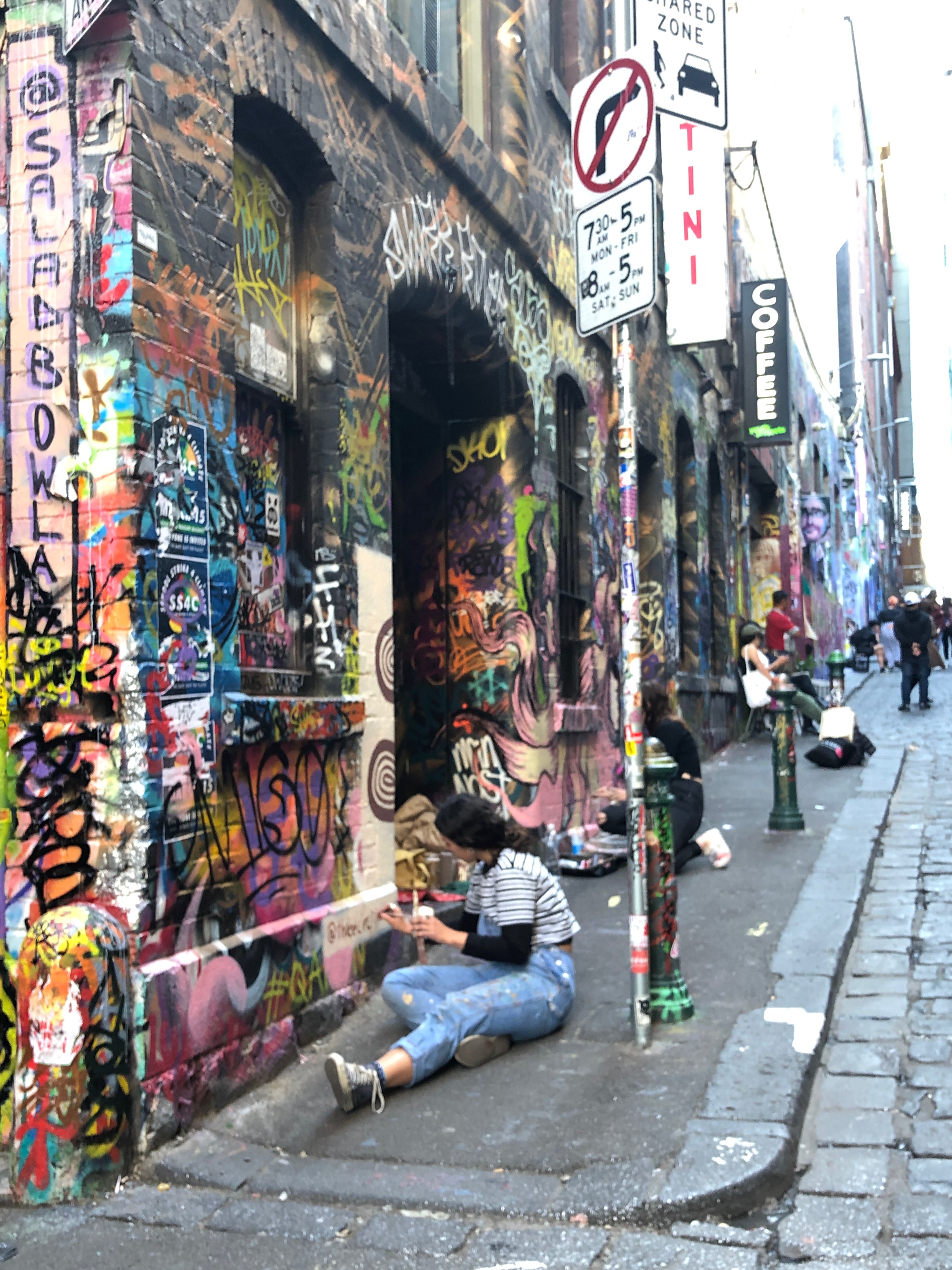 The most famous street to visit is Hosier Lane (not far from Flinders Street station), where you'll witness street artists at work, blithely ignoring all the tourists and clatter and comings and goings all around them, and working just as anyone else would do at their day job. This is because, in Melbourne, street art is now definitely art, not graffiti, and in these streets, it's not only permitted, but actively encouraged. Gone are the days when street artists had to work furtively, under cover of darkness, risking arrest for their art. Now it's mainstream, and even the local Melbourne authorities agree that it's good for artistic expression – and the tourist dollar!
There are art-covered streets (with varying degrees of skill) all over the city. In the CBD (Central Business District) these include Strachan Lane, Rutledge Lane, Beaney Lane, Snider Lane, Rankins Lane, Caledonian Lane, Presgrave Place, Union Lane, Drewery Lane and Duckboard Place. But for fans of rock and heavy metal, there is only one place to get to: AC/DC Lane. Yes it is actually named after the Australian rock band. Until 2004, it was the much-more conservative Corporation Lane, but that didn't attract anything like as many pilgrims seeking their heroes as AC/DC Lane does. Here, the art isn't only painted on the walls, it's coming out to get you. Former AC/DC singer Bon Scott (who died in 1980), has been sculpted bursting through the brickwork, created by sculptor Mike Makatron.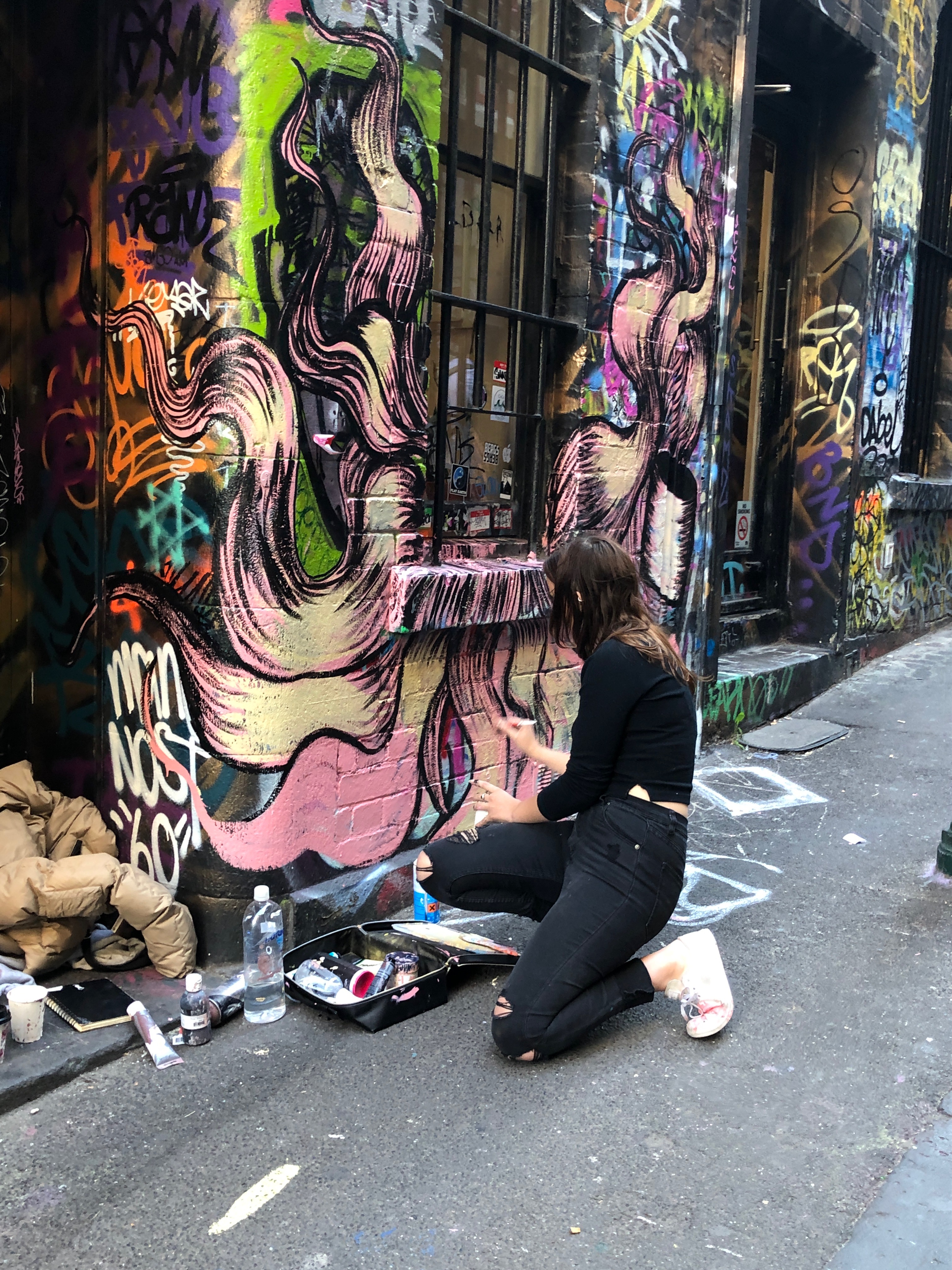 You can download an official street art map and visit the streets on your own, but there are great street art tours, led by working artists, which not only give you far more information that you'd find on your own, but also give you the chance to visit their studios at the end of the tours. Yes, it's a blatant way for them to sell their work, but surely it's better to go home with a genuine work of Australian art, rather than mass-produced tourist tat?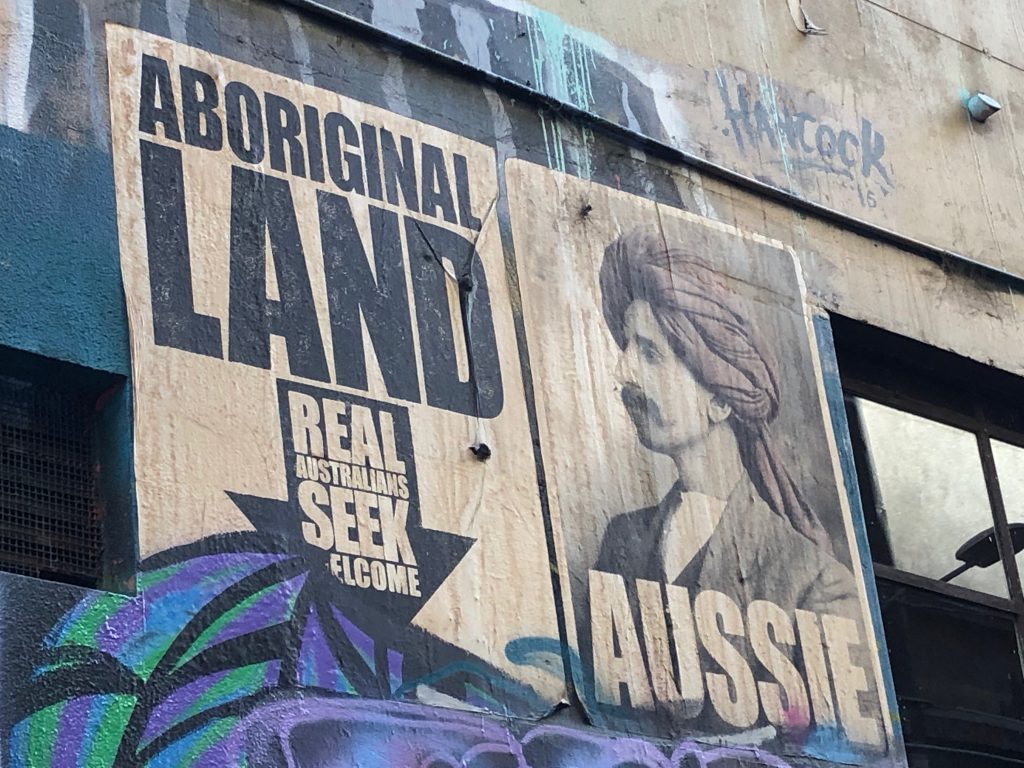 Street art in Melbourne ranges from the simple but pithy stencilled slogans such as "Binge thinking is bad for your health", to witty works by Stampz, including his kissing Disney princesses, and movingly beautiful images by @n20_jo, her works are so gorgeous that they make you stop, look and then keep looking. As with all the best street art, there are brilliant political works, such as pasted-up posters by Peter Drew, whose "Aboriginal Land Real Australians Seek Welcome" highlights injustices against the Aboriginal community, who are, despite many attempts to pretend otherwise, the original and only indigenous Australians. Another strikingly beautiful work, painted high over Hosier Lane is a massive, haunting portrait of an Aboriginal child, gazing across the top of Melbourne. He looks over what is now the city's northern suburbs towards what was once a revered and sacred Aboriginal site. The portrait, by artist Adnate, stays in your vision long after seeing it. Long may it stay up there – as far as Adnate is concerned, it will be there until the elements destroy it, which seems a fitting analogy.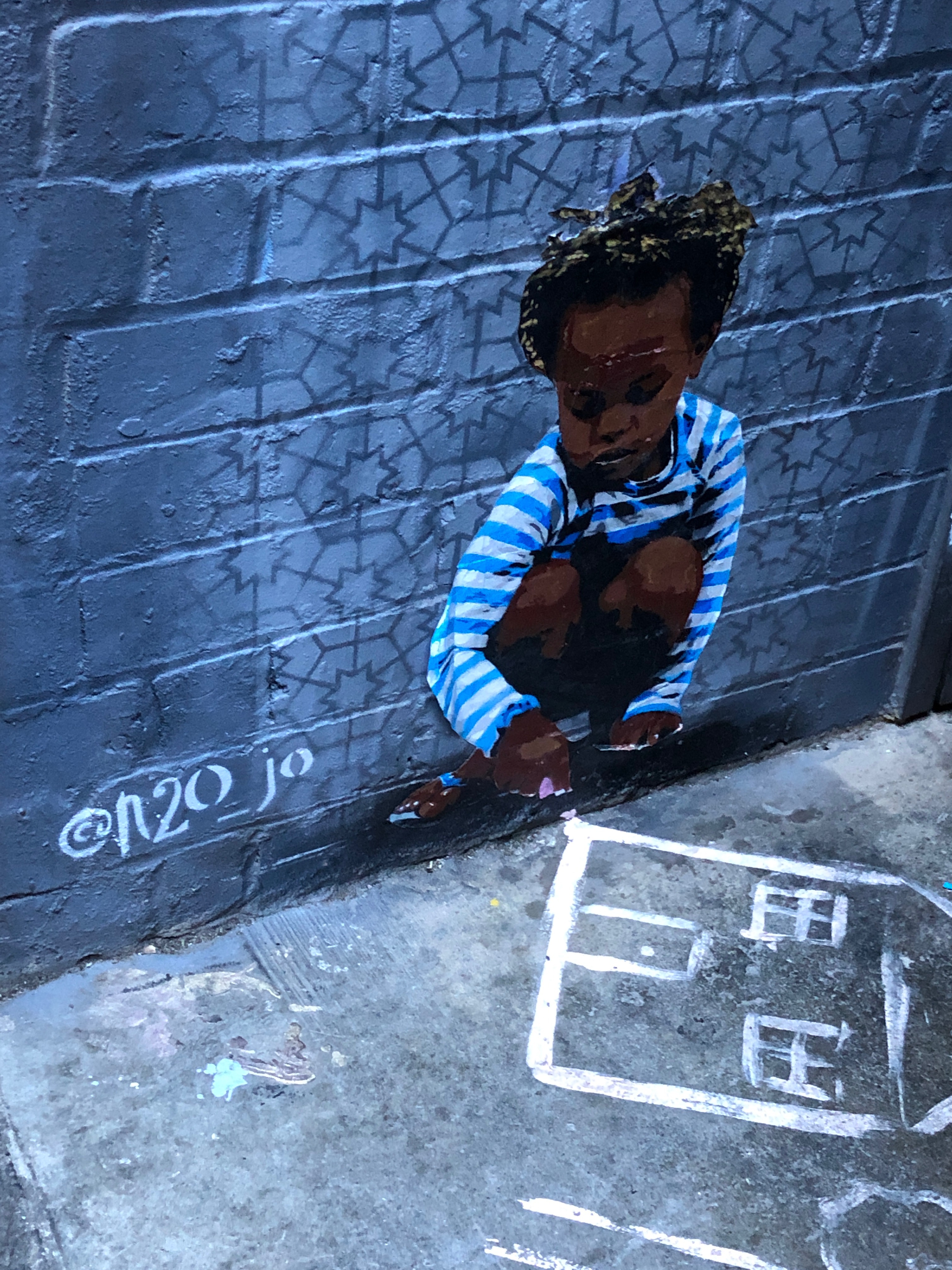 There's controversy here too: the working street artists, who lead the tours, despise over-commercialisation of the area. It might seem like a sweet irony, as they guide paying tourists through the maze of painted streets, but I understood what they meant, as we passed shops charging prices for so-called "street clothing" which only the only those in the salary bracket of a corporate lawyer (or drug dealer) could afford to buy with ease. These shops often pay street artists to create works – but isn't that selling out? That was the question on seemingly all the artists' lips. Though, having said that, UK street artist Banksy is still spoken about on the Melbourne scene with awe – yes, his works may be worth a fortune, but the reclusive Banksy still uses his talent to highlight social injustices and, often, to make others' fortunes. When he paints on the sides of poor-looking buildings in the dead of night, he bequeaths a generous gift to the building's owners, rather than making money from it himself. The greater irony I found on our tour was passionate way in which our street artist tour guide ranted against single-use plastics – whilst carrying a single-use-plastic water bottleÔǪ.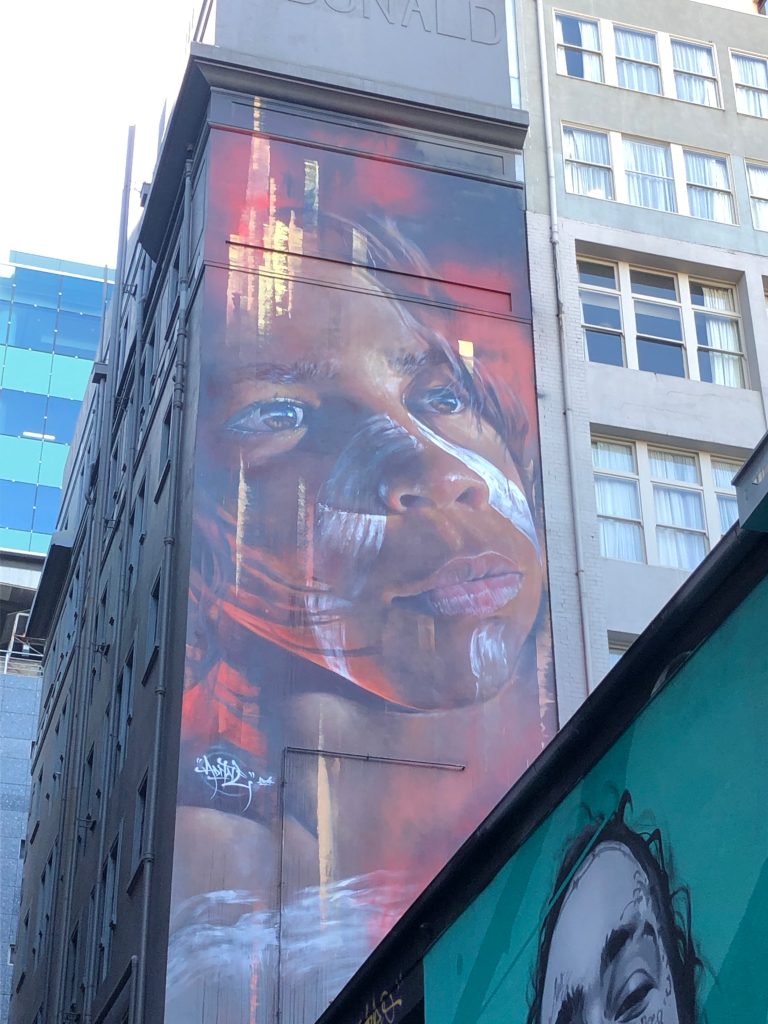 Lucinda Hawksley is an author and travel writer based in London. Find out more at www.lucindahawksley.com or @lucindahawksley (Twitter and Instagram).