My grandmother, who lived in London, took my seaside-dwelling sisters and me to the Natural History Museum when I was about five. I have a vivid memory of standing for a very long time, looking up at the vastness that was the blue whale. This magnificent model, with its expressive eyes, was suspended from the ceiling, seemingly swimming in the air high above my astonished gaze.
An enduring love affair began. It was abetted by my first teacher, Sister Camillus. At the end of the day, after the magic that was storytime, she would tell us to rest our arms on our desks and lay our heads on our arms. Then she would put on a record called The Song of the Humpback Whale. It took me a long time to realise it wasn't a song about whales, it was the actual sound of whales singing. I have never forgotten the calm that spread over me as the sound suffused the classroom.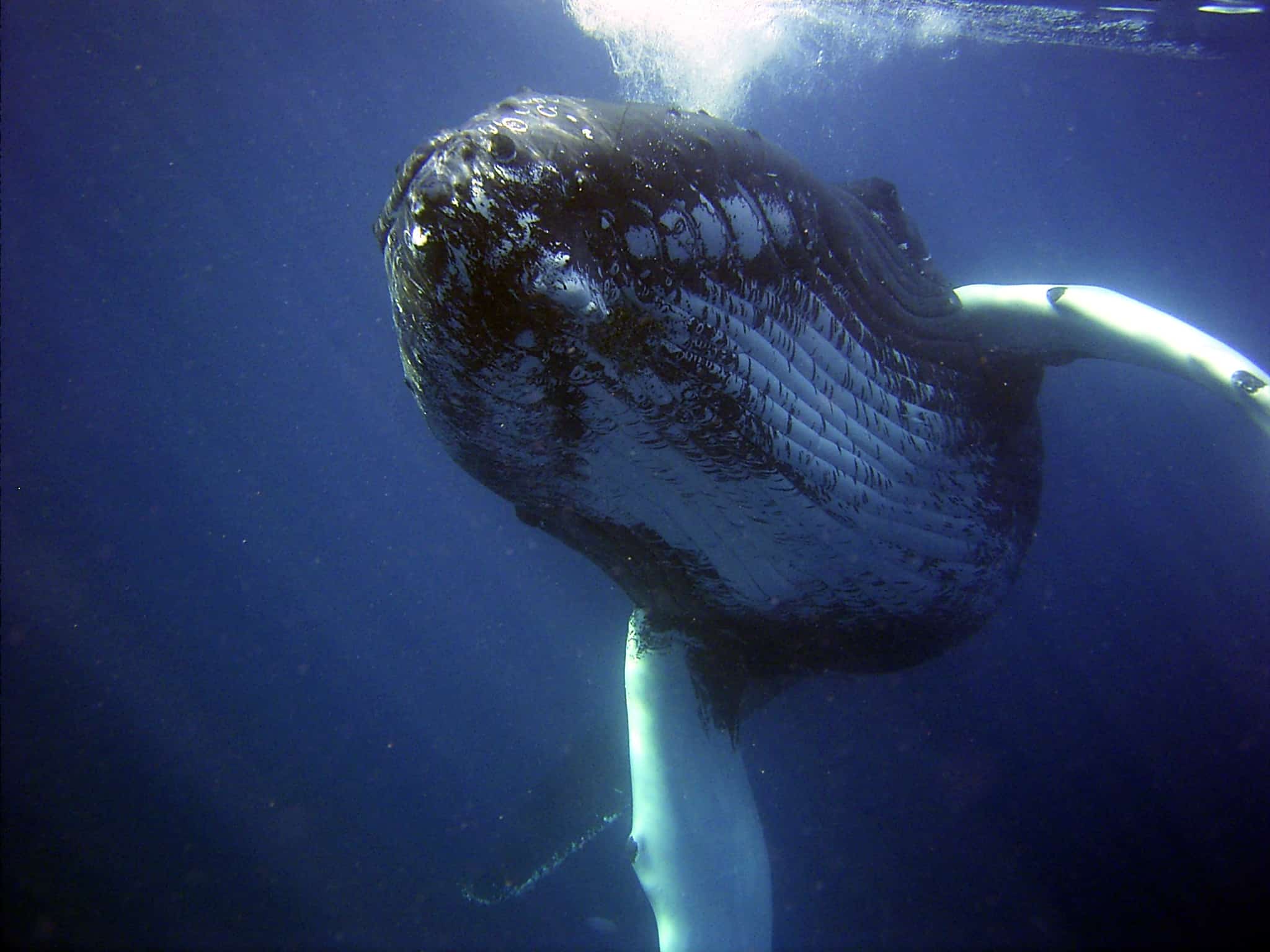 I saw dolphins and probably porpoises from ferries and other boats in childhood and adolescence, but I still hadn't seen a real live whale. Then, after working as an editor – including my dream job, editing Mark Carwardine's Whales, Dolphins and Porpoises – I left London to go backpacking. I spent my 25th birthday on a whale-watching boat, in Queensland's Hervey Bay. In the Australian winter, when the humpbacks are migrating, many choose to come close to land, opting for the protection afforded by Fraser Island.
I had been away for six months, travelling around the country, and by the time I reached Hervey Bay, eager to see my first whale, I was feeling like a seasoned traveller. But nothing that had happened before could match the sheer exhilaration I felt there. Our small catamaran became a source of entertainment to a group of adolescent humpbacks, mostly males. They showed off to us, breaching, fin-slapping and tail-lobbing. Then one swam directly at us. I held my breath and watched as he checked us out then sank beneath the boat. I ran to the other side and knelt down so as to be as close to the water as possible, then waited. He surfaced, very slowly, taking care not to jolt us. As he glided softly back up, he made eye contact. I was staring directly into the eye of a humpback whale.
It was an incredible connection between one mammal and another. At that moment, a new addiction was born — I was no longer content just reading everything I could about cetaceans, now I had to see them. And not just whales in general. I devised a new life goal: to see every species of cetacean in every part of the world.
It is an expensive obsession and one that has taken me from the Isle of Mull to the Galapagos Islands. One whale that long eluded me was the one that had first inspired me: the blue whale. I knew all the wonderful facts about blue whales: that their hearts are the same size as a Volkswagen Beetle; that the biggest ever recorded was over 30m long; that their tongues alone weigh as much as an elephant. Yet several attempts to see, in living reality, the largest animal that has ever lived on Earth had all been unsuccessful.
Then, one summer, I travelled to Monterey, where blue whales had been seen every day for weeks — until the week I got there. Deflated, I returned to my friend's house in Southern California, where her stepfather casually said, 'there's one just up the coast, at Dana Point'. We drove there the next day and, at last, I was able to see the elusive animal. Just as the Natural History Museum's lifesize model had filled me with uneasy awe, witnessing the slow, deliberate passing through water of such an unimaginably large beast created a mixed tumult of feelings. I felt very aware of my smallness and fragility — of the humble place of every human being in the grand scheme of nature.
Finally seeing a blue whale didn't cure me of my addiction. There was still a place I really wanted to get to — a whale-watching mecca I'd only ever read about: Baja California in Mexico. Then, last year, I was invited to talk about my books at a university in Texas. In prime whale-watching season. There aren't many whales in Texas, but a flight from Texas to the whale-watching haven of Baja California costs less than $100. I booked it.
Three months before I was due to go, my father died. His final illness had been long and gruelling. I barely wrote a thing in his final months and in the immediate aftermath I had writer's block, proper block, for the first time in my life.
I flew out to Mexico in late February, a cold wet time in London. The bus that took me from the airport meandered amongst houses painted in bright colours and walls blooming with flowers. Even the serried rows of satellite dishes held a charm as they glinted in the sun from their precarious positions. My first sights of Cabo San Lucas – which was America's equivalent of Magaluf, I discovered – were of banners offering 'all-night happy hour' and posters promising the creation of fake IDs. Yet I loved it. For every advertisement for Viagra and Xanax I saw another for whale watching. There were bars, restaurants and hotels named after different species of whales and I met people who brightened when I spoke in rusty Spanish and asked them about the whales. Scratch the surface and every waiter or shop worker in 'Cabo' is a whale lover.
Baja California is known particularly for its populations of grey whales and humpbacks. Sadly, the greys had all migrated early, but there was still a playful group of humpback mothers and calves. They sported contentedly together, showing off to boatloads of humans, seemingly always amused as well as amusing.
I spent five days in Baja California and went whale-watching on four of them. After my first day, watching doting mother humpbacks teaching their calves how to play and, thereby, how to hunt and survive, I went back to my hotel room and cried. I was no longer holding back my grief at losing my father and, as I discovered, I was making a chink in the thick wall of writer's block.
The nights were amongst the darkest moments in my life, but they were necessary. The days gave me the thrill of seeing an ocean teeming with cetaceans, of experiencing that rich visceral delight of waves swaying a boat, and of feeling joy in nature and life. On my last day, as we were sailing back to the marina and the whales had swum away, I took my notebook out of my bag. I started writing down an idea I'd suddenly had for a children's book. It tumbled out of me and onto the pages. It was the first time I had felt inspired for months. I thank the cetaceans for it.
This article was originally published on The Royal Literary Fund website in July 2016.